posted by

Vadims Mikeļevičs
We launched the Mightytips project in 2019 and since then we have been working on it non-stop, expanding and improving the platform for you to take advantage of our knowledge and experience. Part of this process was going worldwide by introducing the website in different languages adapted to local betting landscapes. The latest addition to our line-up of sports betting portals was a website in Serbian language.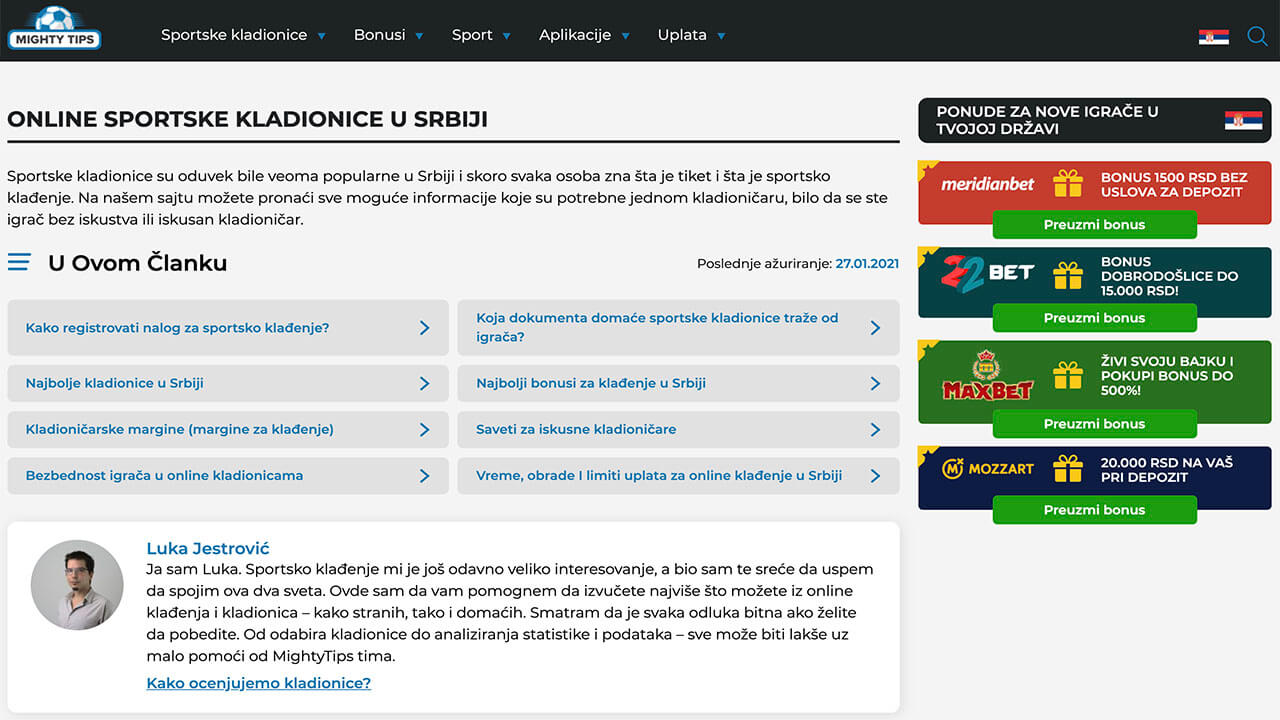 Functionality
The Serbian Mightytips project offers objective bookmaker reviews written by a team of professional betting experts. The reviews offer an inside look into the usability and bonuses of bookmakers, their mobile functionality, credibility, available payment methods, types of bets and support options.
Bookmakers are also accompanied with detailed mobile reviews, information on active bonuses and promotions and registration instructions.
The home page of the Serbian Mightytips will introduce you to the most lucrative bonuses and bookmakers available on the website.
Adaptivity
Our new design is able to adapt to any platform – from PC to tablets to Android to iOS – to display the best page appearance for your device. The design itself is intuitive and user-friendly to provide you with a pleasant viewing experience.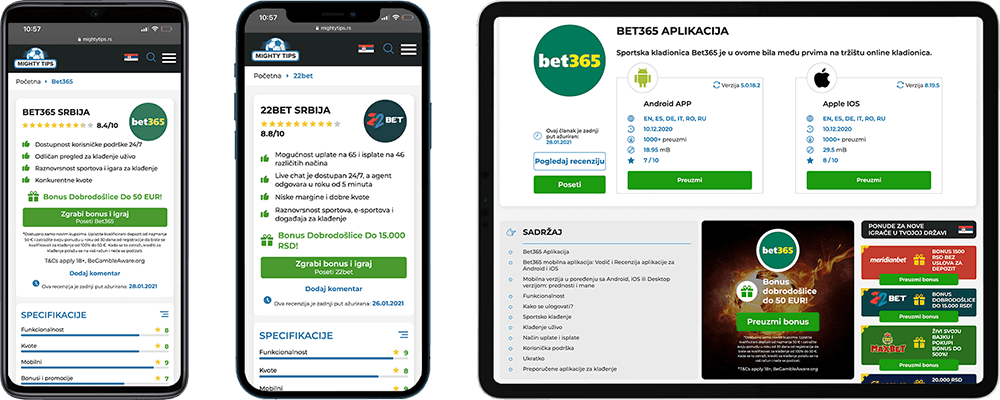 Reliability
The Mightytips team for Serbia consists of professional authors with vast experience in betting. The authors spend a considerable amount of time studying each subject for the most accurate and objective information. The data is unedited, and the ratings of bookmakers are not for sale meaning that they reflect the state of events at the time of writing.
We work hard to provide you with the most relevant help in terms of betting and making our website your one-stop-shop on the way to sports events.
Social
Mightytips is present and active on social media where you can follow us for the latest news. You can visit us on Facebook, Twitter and Telegram, or download the latest version of the MightyTips App on your phone.
Should you follow us on social media, you will find more information about the Mightytips project along with more useful data and sports predictions in English.
Global
With continuous expansion of the Mightytips brand we don't plan to stop. At the time of writing, Mightyips is already available in English, Serbian, French, Romanian, Hungarian, Polish and Brazilian Portuguese languages. This list will be growing over time so feel free to check our social media from time to time if your preferred language has become accessible.
do you want to work on cool projects together?
We are building a professional community and looking for new members to join our team. Check out our careers page and see where you fit with SEObrothers!