posted by

Loreta Makna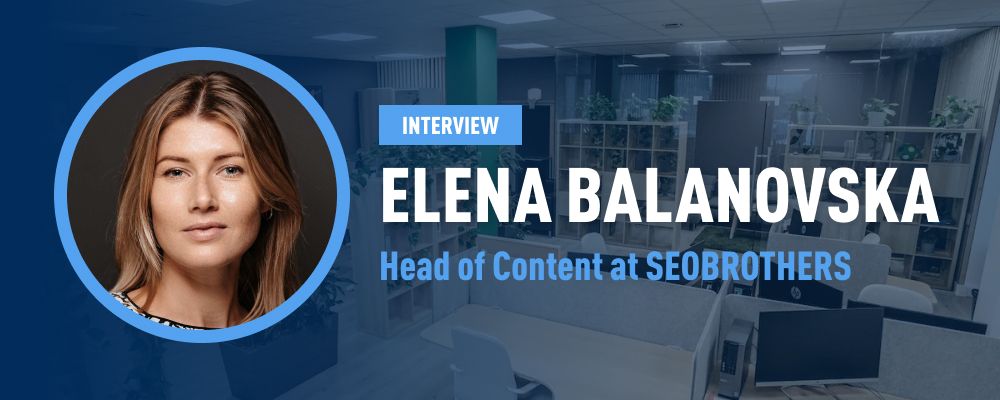 Elena Balanovska is an affiliate marketing specialist who holds the position of Head of Content at SEObrothers, thus overseeing multitude of related projects. In this interview, I had the chance to talk with Elena about her professional experience and intricacies of content creation.
1. Can you tell us about your professional experience and your role at SEOBROTHERS?
Hello, of course 🙂 I've been in the iGaming niche for 5+ years and 3 of them at SEOBROTHERS. I began my journey in this field as an Italian translator in a popular betting company, and after 1 year I became the Localization Group Manager there. At SEOBROTHERS I started as a Head of Content. Initially I managed only casino team, but about 6 months ago I became the Head of Content for the whole company and now I cover both of our verticals – gambling and betting.
2. You have a lot of projects in your company, were there any challenges in setting up processes in the content department?
When I started, the content department included 4 people, so taking into account our future plans there was some work to do 🙂 But I can say these were interesting challenges. I had to understand the specifics of SEO content, tailor the team to our needs, and adapt step by step all the processes so every team member has a clear vision of what our goal in terms of content was. Clear and understandable briefs are the key to a smooth process, so we started with detailed guides depending on our needs, and nearly 3 years later we have an internal team of 24 people (excluding 30+ copywriters). And taking into account that the biggest part of the team has been with us for many years, we are on the right track with setting up the processes.
3. Your projects run in many geos, what are the most difficult languages you work with?
I cannot say there are any serious gaps between projects in terms of difficulty. If you have a clear vision of the market, a great team of professionals, and precise briefs, you can work with any language easily 🙂 I would just say that Japanese and South Korean projects were more challenging to launch than the others. Mostly because there are fewer experts in the iGaming niche for those 2 languages than, for example, for English or any Scandinavian language. And, since our process involves several steps and several people for each language, we require more than one specialist in the field.
4. How many languages do you know?
Well, I have a degree in European Languages. I'm fluent in English, Russian, Latvian, and Italian. I've also studied German and French at the university, and all these languages are actively used in our projects which comes out really handy after all.
5. Do you work more with agencies or with freelance copywriters?
For now, 90% are freelance copywriters. We did start with agencies but after some time we switched to freelance copywriters, and they now cover nearly all of our projects. Most of the copywriters have been working for us for more than one year, so they are aware of our requirements, structures, and familiar with the websites so it's a much better process now.
6. Do you play casino yourself? :)
You may be surprised, but a lot of people from the gambling niche don't actually gamble. And I'm one of them. We rarely gather with friends to play blackjack. But mostly I prefer free play or spinning demos just for fun to make sure our guides and reviews reflect the actual technical data of the game.
7. Do you have any advice for those who want to start a content-related profession?
Content field involves many directions. Some people prefer copywriting, others, on the contrary, prefer translating, or simply uploading and designing ready content on the site. So first, you should understand which direction is more appealing to you, and then develop your skills in it. A niche also plays a big role. I tried to work as an intern and as a full-time translator in several niches and at the end I chose iGaming. As for me, it was the most competitive, fast-growing, and interesting niche. So if you have a passion for languages or a content-related field, don't be afraid to test the waters first and you may be surprised by the opportunities this direction offers.
8. What's the key to successful content?
First of all you have to understand your audience. Then you go with what copywriters and content managers may need to deliver the type of content for that audience. We have clear briefs and structures, experienced copywriters who can produce content tailored to the audience, market knowledge, and a professional internal team who are extremely dedicated to what they do.
do you want to work on cool projects together?
We are building a professional community and looking for new members to join our team. Check out our careers page and see where you fit with SEObrothers!