posted by

Loreta Makna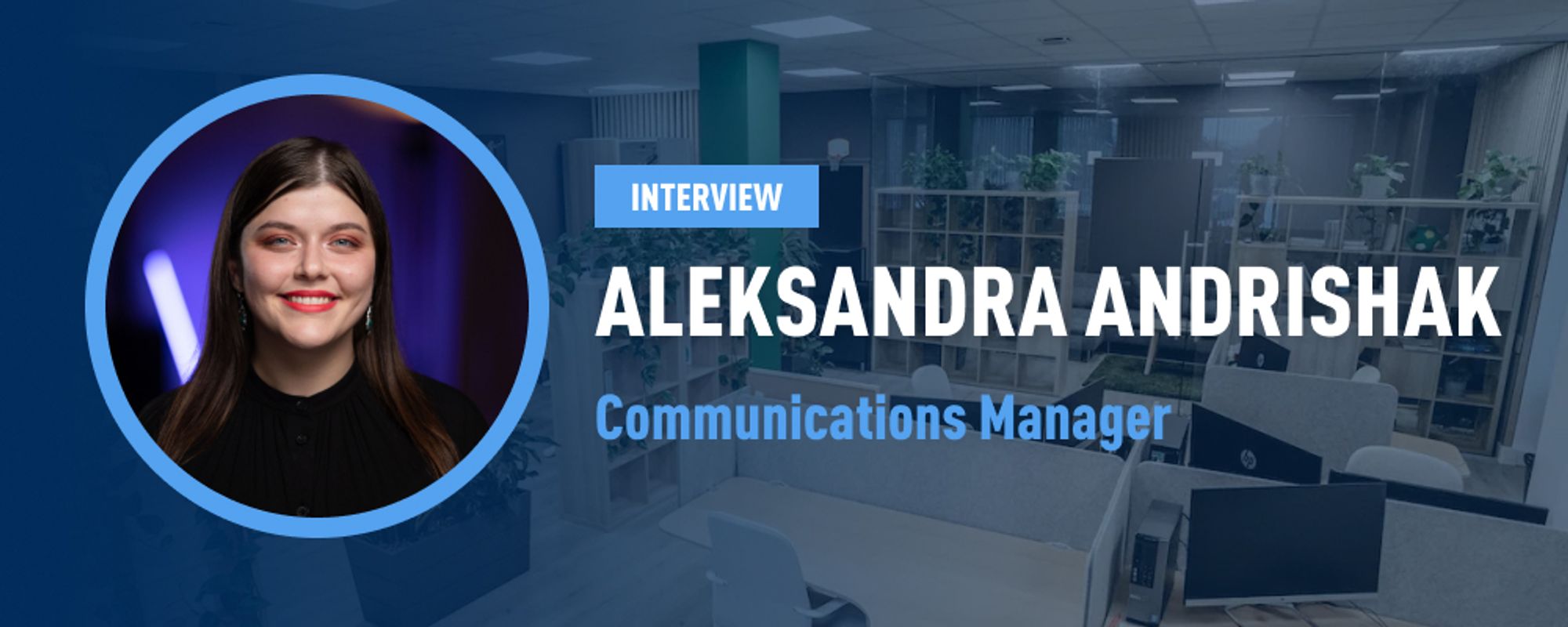 Aleksandra Andrishak has a lot of experience as a communications manager, and in this interview we will discuss her professional opinions on intricacies of the job.
1. Please tell us about your background and what your current responsibilities in Seobrothers are.
Hello and thank you for having me for this interview. I am a Communication Manager at Seobrothers, and my responsibilities include both B2B and B2C communication –be it collaborating with game providers, planning campaigns with PR agencies, or chatting with our audience in the comments section. I use all available channels, from email to social media, and consider it very important to create a trustworthy public image of our projects.
I started to work in iGaming more than 9 years ago and, during that time, I have undertaken many different roles, such as Planning and Scheduling Manager, Affiliate Manager, and Sales Manager. iGaming is a niche that allows professionals to truly bloom to their full potential in any chosen specialisation.
2. Please share with us more details about the project you are working on and how it stands out in the crowd of competitors?
I dedicate most of my time to a particular Seobrothers' project focused on slots. Our aim is to thoughtfully review every single slot on the market and provide our audience with the most detailed unbiased information on available games and where to play them. The amount of the work we are undertaking is massive, as there are more than 25,000 slots already released, with around 300 more launched every month.
But just becoming a great slot library is not enough for us, as the most important aspect of this project is how engaging it is. We encourage visitors to participate and share their honest opinions about casinos and the games they play, as well as sending us screenshots of winnings, or starting their own blog on our portal. We generously reward website activity with points, which can be exchanged for casino bonuses, free spins, or other perks.
3. Why is it important to have a dedicated Communication Manager for such a big project?
The goal is to provide a truly valuable experience for our audience, but this is not an easy task. To ensure that brand messaging is consistent, transmits correct values and inspires players, a proper strategy must be in place. Plus, when you are having actual conversations with an audience, just posting is not enough – you must listen as well.
4. Slot games are being released at an incredible speed – around 300 per month. As a player, how does one choose the right game to play?
Every game comes with statistical information, which is important to analyse before submitting your bucks. The primary characteristics are:
RTP or Return to Player – similar to the house edge in table games, this represents the amount of funds that a player will receive back over a long-term game. This value is theoretical and usually calculated by the expected results of 10 billion games. 96% is a good RTP, but games with 94% and even 88% exist.
Volatility, sometimes referred to as variance, is a measure of how big or frequently you should expect wins, or, in other words, how risky the slot is. Choosing which volatility is right for you is a matter of taste and budget for most gamblers.
Maximum win or maximum exposure describes the highest possible outcome from a particular slot. It's good to know how a game could potentially pay out before you start to play it for real money.
After analysing this information, you can create an understanding of whether a particular game suits your current needs. Playing a game without knowing its technical details might lead to unsatisfactory outcomes, so everyone must remember to play responsibly.
5. An important element of Seobrothers projects' strategy is to be community-oriented. How do you approach this?
To build relationships with our audience, we follow the people-first approach. It is no surprise that gambling and betting are super competitive industries to work in, but have you also considered a player's perspective? The internet is swarmed with endless websites and paid advertisements, but most just hunt for their prey without offering anything in return. We tackle this from both sides building strong relationships with casinos, so we genuinely know that players can trust them; with game providers, so we have the most true and up-to-date information; and, of course, with our audience – every single member of our community can have a warm chat with us via the website comments, Twitter threads, or good old email, and we offer guidance on every possible topic.
6. You publish a lot of exclusive interviews with slot providers and other industry experts. Why is it crucial to build relationships not only with your audience but also the companies whose products you review?
The amount of information stored on the internet has officially reached the zetabyte level. A modern human receives more information in a day than a person living 100 years ago would receive in their whole life. What does this mean for Seobrothers? A company that aims to be one of the world's top affiliates The information we publish must not only stand out in a crowd of competitors but also be meaningful and personal. Hence, the relationships with companies we write about make our content not only exclusive but also provide value you can't find anywhere else.
7. What skills are required to be a successful Communication Manager?
The Communication Manager creates, implements, and oversees all internal and external communications of a given product. My take on this is that it is similar to Public Relations but with a more personal touch. To succeed in this role, therefore, you must understand how to communicate the project's values using all available media channels, whether email, social media, or in-person networking. You must also have a creative and proactive approach, be an inspiring leader, and know how to successfully manage people and time.
8. What do you love about working at Seobrothers?
The core values of Seobrothers are based on expertise, growth, and our people. You won't find the 'we are one family' type of narrative here. We are a strong team of professionals on a mission to build world-changing products, and I love it here because of that.
9. How do you see the future of the company and yourself within it?
There is no doubt that we will become the Number 1 affiliate company in the world, and I am doing my best to be a part of it 😉
do you want to work on cool projects together?
We are building a professional community and looking for new members to join our team. Check out our careers page and see where you fit with SEObrothers!