posted by

Vadims Mikeļevičs
Over the course of the years Mightytips has been providing users with reliable professional football tips and bookmaker reviews, and during that time our goals not only didn't change, but had become even stronger going into each subsequent wagering season. We're as dedicated as ever to improve and build upon our existing platforms to become an even more popular and respected source of information on all things betting.
To achieve this, we've been working on expanding our services in different areas, of which languages are a significant part. This is why on this day we are eager to announce that Mightytips is now officially accessible in the Spanish language.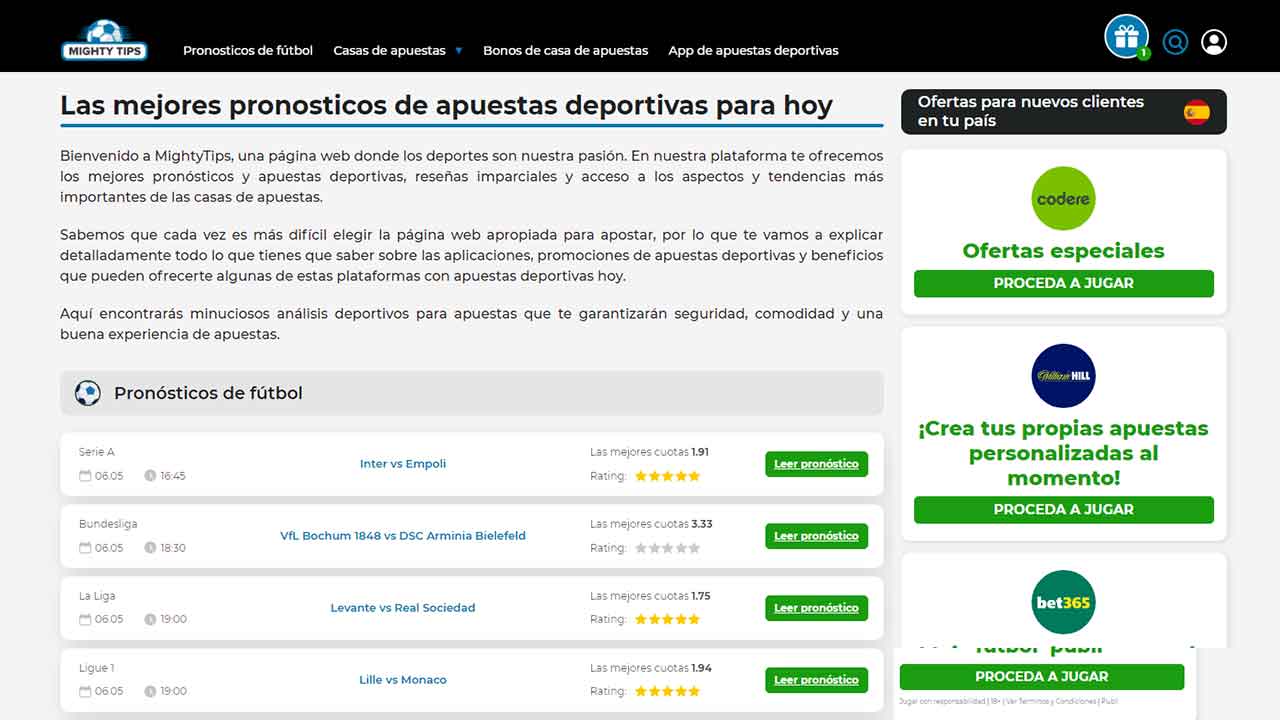 Functionality
The Spanish version of Mightytips will contain the functionality similar to that of our global website, meaning that it will have daily football tips and predictions written by professionals in the betting industry, along with reviews for sportsbooks, their bonuses and promotions, app offers and guides to registration processes.
The website will contain several categories and lots of information to help you choose the best bookmaker for your location. We are currently offering individual lists of the best available bookmakers for an array of Spanish-speaking countries (ex. here's a list of the Mexican bookmakers), making our priority to deliver the most relevant data directly to your doorstep.
Adaptivity
To provide a comfortable browsing for readers, our websites have adaptive designs that will automatically resize the elements according to the particularities of your device. This makes the pages fast and accessible without any inconveniences on PCs, tablets, Android and iOS devices.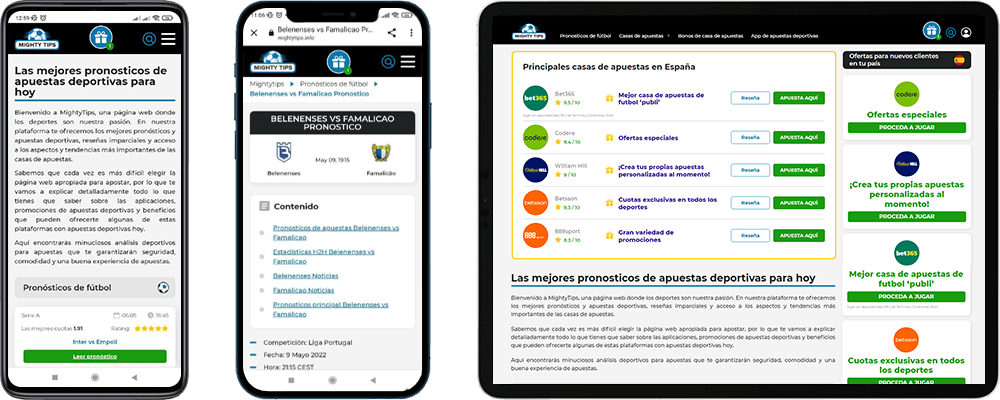 Design
We are always taking an extra step to provide customers with a sleek, intuitive and appealing interface. Our visual style is easy-to-view and modern, and we strive to include as much relevant information on a screen as possible.
Reliability
At Mightytips we pride ourselves in publishing betting tips and predictions from proven football betting experts that provide professional advice on upcoming football betting events. Our reviews are written from a betting standpoint and are being constantly updated to contain the latest information on offers and bonuses available to our readers.
Our Spanish website is not an exception to this – we make writers follow the same guidelines in terms of quality of information and accessibility of writing, and we on a regular basis analyze their outputs.
This means that if you're from Argentina and looking forward to some betting action, then we've got you covered with the sportsbooks for Argentina that are ready and waiting for you, and the information on those is reliable, truthful and up to date.
Social Media
For those who want to follow us on social media, we have active accounts on Facebook, Telegram, Instagram and Twitter with lots of subscribers and regular updates and the latest news and events.
Global Growth
As an established international brand, Mightytips is dedicated to constant growth and improvement, and our continuous professional work in the betting industry is a proof of that. We keep moving forward to universal reach and we hope to provide our readers with even more languages and personalized offers in the future.
However, even with more languages planned, it's still not the only venue we explore in our outreach. We want to provide a more accessible and personalized betting experience from bettors all over the world. We plan to grow our international audience no matter of their location. Are you from Perú? We've got a page for Perú right there on our Spanish website. And it is our long-standing goal to be able to provide something for everyone, be it Perú, Kenya, India, Monaco or New Zealand.
do you want to work on cool projects together?
We are building a professional community and looking for new members to join our team. Check out our careers page and see where you fit with SEObrothers!