posted by

Vadims Mikeļevičs
Markets around the world are evolving, and when it comes to Canada, its launch of another legal sector in Ontario is a blast. Since April 4, 2022, AGCO (the Alcohol and Gaming Commission of Ontario) regulates the industry, which makes this area transparent and safe. This regulation opens doors to online operators that provide access to slots, table games, lotteries, live games, and sports betting.
That's why we couldn't pass by this direction and launched Ontariocasino.online in May 2022, a full guide for gamblers in Ontario to highlight the aspects of the new regulation and explain the advantages for local players.
This is not the first gambling project we are dealing with, so our experience and the understanding of the audience's needs both provide for a mind-blowing result. However, we have applied a completely new approach to that one as it was crucial to take into account all the strictest aspects of Ontario province regulation. More experts joined our team to work in this direction, so we had enough time to test local operators, overview new casinos that entered the market, while keeping in mind all the latest trends to provide our readers with useful features that add to overall experience on the site.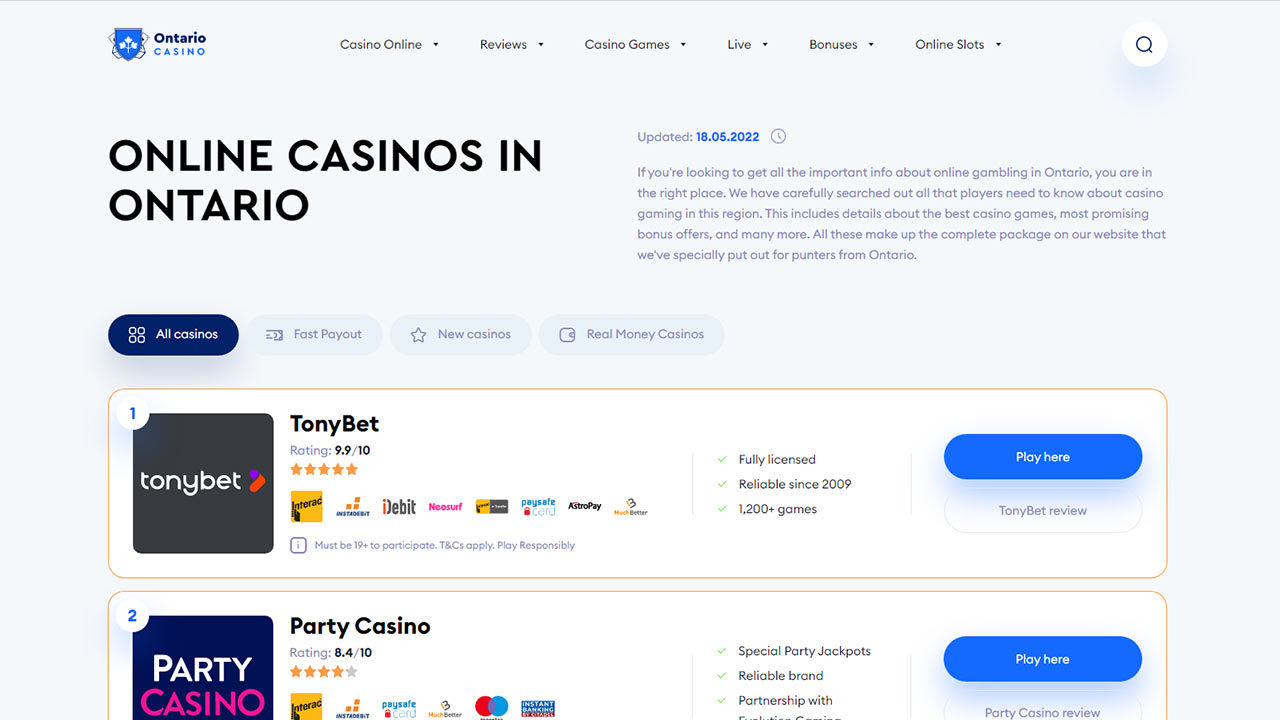 Functionality & Features
There are many things that make Ontariocasino.online convenient. And the official site with its understandable layout is among them. The upper menu serves for smooth navigation, and each section has a drop-down list to find more information. Here, users can find different types of Ontario casinos, reviews, casino games, such as blackjack and bingo, live titles, and slots. Readers can also use the search bar on the right.
The main page also has everything you need to explore this market. The mentioned filters by casino types are also working with the ranking of Ontario casinos. Besides, you can see the most important information about these operators, including licenses and games availability.
Mobile Optimization
We make sure that Ontariocasino.online is accessible by everyone, be it a mobile user or a customer who prefers desktop gambling. The adaptive design automatically resizes all the elements in accordance with your device's screen, so you can effortlessly read reviews, use the filters, and visit overviewed operators via our links. Feel free to use the site via PCs, tablets, and mobiles powered by iOS or Android.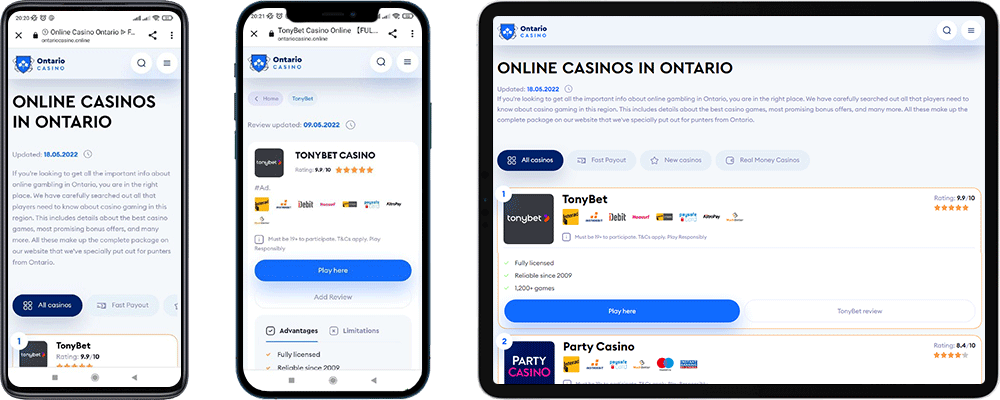 Design & Layout
Our goal for the site is to feature both a sleek interface, light theme, attractive infographics and a variety of functions. You can discover any information you need without spending hours in front of the screen. If you wish to land at any operator, it's easy to access their site and sign up via our link.
You Can Rely on Us
A team of experts is working on each review and on the project in general. We check whether a casino meets the regulator's standards and double-check the conditions ourselves to make sure that our readers will access the best iGaming facilities out there.
Our reviews are not only informative but also regularly updated. If you are one of the gamblers in Ontario, there is no need to search for more information or check local regulations. We've considered all these details and are providing to-go solutions, which means that you can get started at once and be sure that these casinos will be controlled by law.
Future Plans & Growth
Gambling experts estimate a rapid growth of the market in Ontario. That's why we also want Ontariocasino.online to develop and increase. Since the AGCO has been providing licenses for fair local operators, we can easily reveal the ones we can trust. And our site is working in accordance with the same standards.
By the way, this license isn't that easy to get, which turns it into a good 'litmus test' to reveal fair operators. The regulator checks gaming management software, game-related supplier licenses, security systems, and more.
Today, it's a young market, which requires a lot of other attention. If something changes, we need to highlight it. And if novice players have questions, we want to form our reviews so that they completely answer them.
do you want to work on cool projects together?
We are building a professional community and looking for new members to join our team. Check out our careers page and see where you fit with SEObrothers!